SIS - Servizi Integrati di Supporto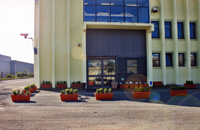 SIS operates in the logistics market, providing companies and institutions a set of integrated support services for "core business" issues. Through its structure, experienced professionals and SIS partner companies, support the organization of operative integrated logistic activities.
SIS operates according to a logic of "services"(demand satisfaction) facing the client's different needs. SIS offers the supply of specialized solutions of integrated services, mainly in the field of outsourcing integrated services (externalizing non-core company processes), and support to the company.
SIS offers its experience, competences and capacities.
SIS on the implementation of all activities within its competences has:
operational space for storage and packing of materials: about 4,000 square meters (in operation) expandable rapidly to another 9000 square meters.
an area of 500sqm used for office
consultants and specialists
collaboration with specialized companies and with documented experience and references
equipment, tools, resources and vanguard equipment
Innovative tools for the management of databases and goods and electronic instruments for the conservation, coordination and dissemination of information necessary to the provision of services
Facilities and specific equipment conformed to European standards.
Company profile
---